Sto treba da napravite koga ke pristignete vo Avstralija
Za poveke informacii, klik na likot i simnete, so gluvceto desen klik i odberete ja opcijata Save Target As..
za ova mora da imate AcrobatReader bidejki e vo pdf format
Viza Application - Baranje za izdavanje Viza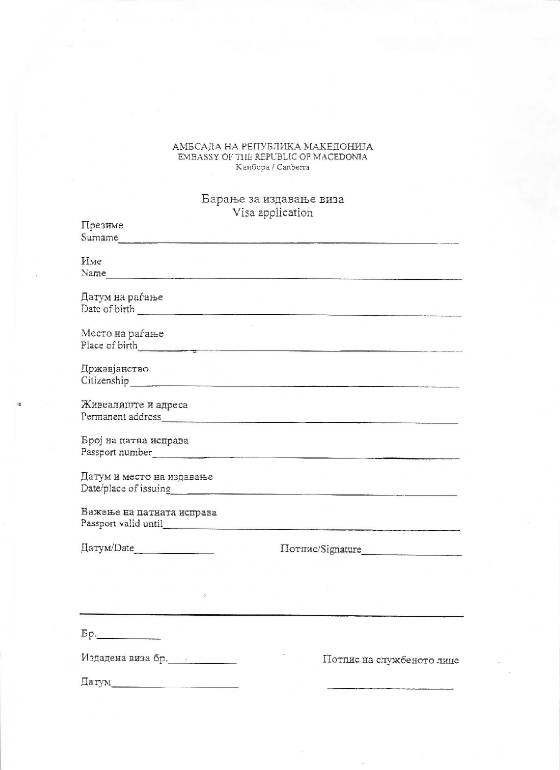 Dokolku imate problem so copy simnete ja aplikacijata.
VIZA
Viza za Republika Makedonija se dobiva vo Ambasadata na Republika Makedonija vo Kanbera.
Potrebni dokumenti za dobivane viza :
-vazecka patna isprava
-baranje za viza so licen potpis na baratelot / moze da se dobie vo
Ambasadata ili vo patnicite agencii ili copy od ovaa strana
-taksa:24.00$ za edno patuvanje\
28.00$ za tri vlezno izlezni patuvanja.
Vizata moze da se dobie i po posta so koristenje na povraten servis na brza posta i smetka na baratelot na vizata, so dostavuvanje na navedenite potrebni dokumenti i money order za taksata, Vo takov slucaj Ambasadata ne prezema odgovornost za eventualno gubenje na patna isprava i pratkata.
PATNI ISPRAVI NA R. MAKEDONIJA
Patnite ispravi na Republika Makedonija ne se izdavaat vo Ambasadata, tuku baranjeto se podnesuva do Ministerstvo za Vnatresni Raboti na Republika Makedonija, koe po izgotvuvanjeto, patna isprava ja dostavuva do Ambasadata vo Republika Makedonija vo Kambera sto vlijae na navremenoto dobivanje na patna isprava.
Baranje za dobivanje na patna isprava / pasos. na Republika Makedonija se podnesuva licno vo Ambasadata na Republika Makedonija vo Kambera.
Za dobivanje na patna isprava pasos na Republika Makedonija potrebno e da se popolni baranje, se dobiva vo Ambasadata , dve fotografii i da se prezentira dokaz za Drzavjanstvo na Republika Makedonija, uverenie za Drzavjanstvo , vazecka Licna Karta ili drug dokument za indetifikacija.
Taksata za izdavanje na patna isprava na Republika Makedonija iznesuva:
-za lica pomladi od 27 godini 118.00 $
-za lica postari od 27 godini 225.00 $
CENOVNIK NA KONZULARNI TAKSI I DRUGI TROSOCI ZA IZVRESNI KONZULARNI USLUGI
1. P.I. ZA LICA DO 27 GODINI .............118.$
2. P.I. ZA LICA NAD 27 GODINI ...........225 $
3. UPIS NA DETE VO P.I. NA RODITEL........54 $
4. PRIJAVUVANJE NA NOVORODENI DECA I BRAKOVI ...52 $
5. PRIJAVUVANJE NA DECA VO K.D. ...52 $
6. NASLEDNICKA IZJAVA ...66 $
7. ZAVERKA NA POLNOMOSNO . POTPIS.......36 $
8. P.L. ZA MAKEDONSKI DRZAVJANI .........50 $
9. VIZA ZA EDNO PATUVANJE ...........24 $
10. VIZA ZA TRI PATUVANJA .......48 $
11. SOGLASNOST ( OD NADLEZEN ORGAN ) ...15 $
12. IZJAVA NA RODITEL NA DETE ... 33 $
13. CARINSKA POTVRDA ....43 $
14. SPROVODNICA ......30 $
AMBASADA NA REPUBLIKA MAKEDONIJA
Perpetual Building, 10 Rudd Street. Suite 2:05, Canberra. ACT 2600
tel: 02 6249 8000 fax: 02 6249 8088
Overseas Qualifications Unit-Dept of State Development
Level 27
80 Collins Street Melbourne VIC 3000
Tel. (03) 9655 6164 Fax. (03) 9655 6151
Services,Information, advice and referral to people with overseas qualifications and employing agencies
Written assessment of overseas qualifications ( ont for migration purposes)
Information on career re-direction
Confidental vocation counselling, assessment and support services to individuals.
Infomration can be given by correspondance or an appointment can be made for a personal interview.
Cost: Free Service
Elibibility: Persons with overseas qualifications, skills and work experience (must be permanent resident of Australia or with temporary work permit) Also employment agencies, Colleges, Unis.., TAFE etc
Procedures: Must bring passport, original qualifications in own language and original English Translation ( or ceritifed copy ) of academic records
Appointment: Appointment Required - Yes